ELECTRONIC PRESS KIT (EPK)
TESTIMONIALS:
Wilson and his Perennials band simply blow the mind with the way they so easily integrate so many styles into one cohesive sound. Reviewers see a lot of release sheets where a performer describes their sound as a mix of this and that, usually with a lot of "this" and not much "that". With Perennials, everything is there. I can imagine trad jazz and reggae fans (and maybe some folkies too) getting a lot of pleasure from this superb album.
Mark Rheaume - CBC Music Librarian
The word is out in Eden Mills. Jason Wilson and the Perennials lift us higher and higher!! With their energetic musical style, their global roots, their range of musical interests and their high level of technical skill, they lead the audience on a trip through home and world music, meshing folk voices and rhythms into a unique and varied musical landscape.
Dr. John Cripton - Cultural Broker, Impresario, Producer and AD Eden Mills Community Hall
Jason and The Perennials crossed boundaries, merged genres, broke all of the 'rules' - thankfully - and in the end, filled the Centre with amazing music performed by a top-notch band. It was reggae, it was folkie, it was jazz; it was so many things, all brilliant and all performed extremely well. But why constrain such joyful, eclectic, exciting, melodic, rhythmic, brilliant music to a single genre? Maybe Jason and the Perennials should have their own genre!
Eugene Rea - GM Midland Cultural Centre/AD Tiffin Bay Folk Club, Midland, ON
Wilson and The Perennials offered up an epic night of music at the Alton Mill Arts Centre. The expertly-performed, eclectic "global roots" mix of reggae, fused with jazz with a strong dose of Celtic influence is, simply put, great music and measured A++. Music simply doesn't get much better than this!
Jeremy Grant - Co-Owner Alton Mill Arts Centre, Village of Alton, ON
Jason Wilson & The Perennials gave a phenomenal performance. Just when you thought you knew what was coming up, a surprise jumped in and kept everyone's feet tapping the whole time!
Christine Schmidt - Coordinator Bruce County Museum & Cultural Centre, Southampton, ON
OFFICIAL HIGH RESOLUTION PRESS PHOTOS: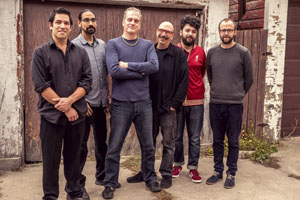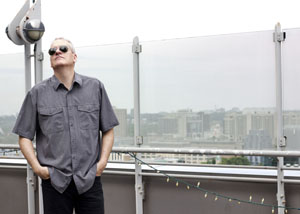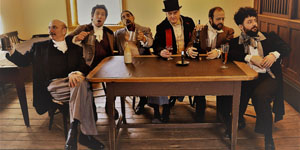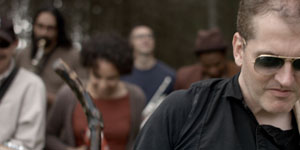 SELECTED DISCOGRAPHY:
- Jason Wilson,
Sumach Roots
. Wheel Records: 2019.
- Wilson and Swarbrick,
Kailyard Tales
. Wheel Records/Proper Music Distribution: 2018.
- Jason Wilson,
Perennials
. Wheel Records: 2016.
- Wilson and Swarbrick,
The Lion Rampant
. Shirty Records/Wheel Records: 2014.
- Jason Wilson,
The Peacemaker's Chauffeur
. Wheel Records: 2008. (Juno-Award nominee/CRMA winner)
- Jason Wilson and Tabarruk,
dREaD & BLUE: A Canadiana Suite
. Wheel Records: 2004.
- Jason Wilson and Tabarruk,
Jonah
. Wheel Records: 2000. (Juno-Award nominee)
- Jason Wilson and Tabarruk,
Dark Corners
. Wheel Records: 1998. - Tabarruk, Tabarruk. Wheel Records: 1994.
PERENNIALS:
Jason Wilson's music has been described as "reggae-impressionism", "jazzy-reggae" or even "post-reggae". While none of these quite cover it, Wilson's art is, nevertheless, truly unique; it is a sound where reggae is freely brushed — not strictly detailed — allowing space on the canvass for wildly divergent inspirations to peek through. In essence, Wilson combines reggae with the improvisational sensibility of jazz and then layers it with the storytelling quality of the Scottish folk tradition.
Written in New York City over the course of 18 months, Perennials (Wheel Records, 2016) articulates this singular sound. Thematically, the artist captures Gotham as if seen through F. Scott Fitzgerald's critical lens; the city is, for Wilson, that "once golden shimmering mirage". In this way, Perennials is not a love letter; it is, instead, an expression of longing, a wish for a return to bucolic, "braes ablaze o' green" Ontario where his beloved Gertrude awaits. JASON WILSON and THE PERENNIALS have been transcending to the delight of crowds across Canada, the UK and Jamaica:
Marcus Ali - saxophones/whistles/vocals
Patrice Barbanchon — trumpet/vocals
Perry Joseph — guitars/vocals
Andrew Stewart — bass
Zaynab Wilson — cajon/percussion/vocals
Jason Wilson — vocals/piano/organ/accordion

Musical Curriculum Vitae
Jason Wilson is a two-time Juno-Awards nominee, Canadian Reggae Music Award winner, four-time Reggae Music Achievements Award nominee and Best-Selling Canadian historian from Downsview, Ontario. In 2007, Wilson became the first recipient of the Karl Mullings Memorial Award for commitment to reggae in Canada. The protégé of Studio One keyboardist Jackie Mittoo, Jason has performed and recorded with UB40, Alanis Morissette, Sly & Robbie, Ron Sexsmith, Ernest Ranglin, Brinsley Forde, Pee Wee Ellis, Martin Carthy and Dave Swarbrick. Wilson is a multi-instrumentalist though is perhaps best known for piano and voice. An Adjunct-Professor of history at the University of Guelph, Dr. Wilson has six books to his name, including the Toronto Maple Leafs' official centenary book.
Born to Scottish immigrants, Wilson's music has been described as "Folk-Reggae" or "Global-Roots". While neither of these quite covers it, Wilson's art is truly unique; it is a sound where the reggae portion is freely brushed — not strictly detailed — allowing space on the canvass for wildly divergent inspirations such as Bach, Scottish Pibroch, folk-rock and bebop to peek through. In essence, Wilson combines reggae with the improvisational sensibility of jazz and then layers it with the storytelling quality of the folk tradition. Importantly, most of Wilson's songs are based on Canadiana and/or actual events in Canadian history.
Wilson has also been featured on many radio and television shows and is no stranger to the CBC where he has guested on many national and local programmes including Metro Morning; Fresh Air; The Current; Ontario Today; Big City, Small World and Mama Yama. Jason's own life story and music was featured in a special mini-documentary entitled 'The Grateful Dread' that appeared on The National with Peter Mansbridge. Similarly, Wilson's life was featured in a documentary on BBC radio. The BBC also broadcast a live performance of Wilson, Martin Carthy and John Kirkpatrick in March 2018. Jason's work on the Dumbells — Canada's famous concert party of the First World War — was also featured on CBC's The National in 2013.
Wilson has performed over 2,500 shows in Canada, US, UK and, of course, Jamaica. Jason was, on several occasions, the Canadian bandleader for ska pioneer and jazz guitar virtuoso Ernest Ranglin. Likewise, he was the Canadian bandleader for the two-time Grammy nominee Brinsley Forde, founder of UK reggae greats Aswad. Jason was also the on-stage Musical Director for the popular Jamaica to Toronto project that toured the Canadian festival circuit in 2007 and 2008. Wilson has had the good fortune to perform and record with some of Jamaica's musical legends including: Sly & Robbie, Willi Williams, Prince Buster, Eric "Monty" Morris, Derrick Morgan, Ken Lazarus, Sonny Bradshaw, Hopeton Lewis, Lynn Taitt, Ernie Smith, Big Youth, Dawn Penn, Dennis AlCapone, Bob Andy, Boris Gardiner, Larry Marshall, The Fab Five and his mentor, Jackie Mittoo. Wilson has also had the pleasure of performing with UK reggae artists like the English Beat's Dave Wakeling, Tippa Irie and UB40. Wilson's cousin Michael Virtue is UB40's keyboardist.
In terms of Canadian reggae, Wilson played his first nightclub date with Messenjah a month after his fourteenth birthday. At fifteen, Jason joined Ronnie "Bop" Williams' band Yahwedeh. Williams appeared on several cuts with Bob Marley and Jimmy Cliff. Wilson has also performed with Canadian reggae acts such as: The Sattalites, 20TH Century Rebels, Michael St. George, Errol Blackwood, Lazo, Mohjah, R.Z. Jackson, King Ujah, Andru Branch, Adrian "Sheriff" Miller, Rupert "Ojiji" Harvey, Jay Douglas, Jackie James, Tanya Mullings and Noel Ellis. Wilson's music was featured in a performance with the Timmins Symphony Orchestra in 2018.
Jason's music has caught the attention of many critics. The Beat's Ted Boothroyd confessed that Wilson's work is "deeply satisfying reggae for aware, intelligent grown-ups." Similarly, No Depression's Douglas Heselgrave believed that "the more I listen to Jason Wilson.the more I am convinced that he's onto something that may just help broaden the spectrum of how people consider reggae music."
Whether it is with his own unit The Perennials, or on-stage with a symphony, or with his touring "musical-lecture" the Soldiers of Song, or when he's been out touring with musical icons such as Pee Wee Ellis or Ernest Ranglin, Wilson's sound has charmed over 2,500 audiences across the country and around the world.
https://soundcloud.com/jason-wilson-music
http://jasonwilsonmusic.com/
https://en.wikipedia.org/wiki/Jason_Wilson_(musician)
LATEST VIDEO:
The Lads of Lombard Hall
MUSIC:
RECENT PERFORMANCES:
RECENT FESTIVAL APPEARANCES INCLUDE:
Vancouver Island MusicFest (Comox, BC) [x2]
Victoria International Jazz Festival (Victoria, BC)
Vancouver Folk Festival (Vancouver, BC) [x2]
Vancouver International Jazz Festival (Vancouver, BC)
Mountain Beat & Blues Festival (Revelstoke, BC)
Salmon Arm Roots & Blues Festival (Salmon Arm, BC)
Komasket Festival (Vernon, BC)
Canmore Folk Festival (Canmore, AB)
Calgary Folk Festival (Calgary, AB) [x2]
Calgary Reggae Festival (Calgary, AB) [x4]
Edmonton Folk Festival (Edmonton, AB) [x2]
SaskTel International Jazz Festival (Saskatoon, SK)
Saskatoon Reggae Festival (Saskatoon, SK)
Summer Solstice Festival (Gravelbourg, SK)
Long Day's Night Music Festival (Swift Current, SK
Winnipeg Ska Festival (Winnipeg, MB)
Cool Jazz Winnipeg Festival (Winnipeg, MB)
TD Toronto Jazz Festival (Toronto, ON) [x3]
Toronto Beaches International Jazz Festival (Toronto, ON)
The Small World Festival (Toronto, ON)
Irie Music Festival (Toronto, ON) [x3]
Orangeville Blues and Jazz Festival (Orangeville, ON) [x2]
Hillside Festival (Guelph, ON) [x2]
Flower City Festival (Brampton, ON) [x2]
Montreal International Jazz Festival (Montreal, PQ)
Montreal International Reggae Festival (Montreal, PQ)
The Off Festival (Quebec City, PQ)
Rythmes Tremblant (Mont Tremblant, PQ) [x3]
The Shoreline Festival (Rollo Bay, PEI)
Celtic Connections (Glasgow, Scotland) [x3]
Sidmouth Folk Festival (Sidmouth, England)
Wickham Folk Festival (Wickham, England)
Jazz on the Green (Kingston, Jamaica) [x2]
RECENT SELECT VENUES INCLUDE:
Aberdeen, UK
- Lemon Tree
Birmingham, UK
- The Red Lion Folk Club
Bristol, UK
- The Croft
Cambridge, UK
- St. Paul's Church
Edinburgh, UK
- Traverse Theatre
Glasgow, UK
- Oran Mor
- O2 Academy
- Tron Theatre
Hailsham, UK
- The Pavilion
Hebden Bridge
- The Trades Club
London, UK
- Brixton Academy
- The Ivy House
- Canada House
Maldon, UK
- macTheatre
Nailsea, UK
- Nailsea Folk Club
Nettlebed, UK
- Nettlebed Village Club
Newcastle, UK
- Tyneside Irish Centre
Norwich, UK
- Norwich Arts Centre
Portmahomack, UK
- Village Hall
Salisbury, UK
- Salisbury Cathedral
Ulverston, UK
- Ulverston Sports Club
Urbana-Champaign, IL
- University of Illinois
Winnipeg, MB
- Rainbow Stage
Carman, MB
- Carman Community Theatre
Saskatoon, SK
- The Bassment
Swift Current, SK
- The Lyric Theatre
Beausejour, MB
- Brokenhead River Community Hall
Virden, MB
- Virden Aud. Theatre
Fort Frances, ON
- Townshend Theatre
Brampton, ON
- Peel Art Gallery Museum
Brantford, ON
- Sanderson Centre
Cayuga, ON
- Ruthven Park: National Historic Site
Clarksburg, ON
- Marsh Street Centre
Cobalt, ON
- Classic Theatre
Listowel, ON
- Parkview Gardens
London, ON
- London Music Club
- The Aeolian
Midland, ON
- Midland Cultural Centre
Newmarket, ON
- Newmarket Theatre
Orangeville, ON
- Opera House
Orillia, ON
- Orillia Opera House
Ottawa, ON
- Canadian War Museum
Owen Sound, ON
- Roxy Theatre
Southhampton, ON
- Bruce County Museum
Stirling, ON
- Stirling Festival Theatre
Stouffville, ON
- Lebovic Centre: Nineteen on the Park
Tillsonburg, ON
- Annandale National Historic Site
Timmins, ON
- McIntyre Community Centre
- Timmins Museum: National Exhibition Centre
- École Secondaire Catholique Thériault
Toronto, ON
- Hugh's Room
- St. Lawrence Hall
- Lula Lounge
- Nathan Philips Square
- Randolph Theatre
- Metro Toronto Convention Centre
CONTACT INFORMATION:
TO BOOK JASON WILSON/JASON WILSON & SPECIAL GUESTS
For bookings in North America contact:
Artists In Motion Booking Agency
T: 416-953-5752
F: 416-907-3667
info@aimbookingagency.com
Contact AIM Booking Agency

For bookings in the UK/Europe contact:
John Barrow at Stoneyport Associates
stoneyport.biz
M: +44(0)7968-131737 (24hr answering)
jb@stoneyport.demon.co.uk
Mailing address: 17 Redhall Bank Road, Edinburgh EH14 2LY, Scotland, UK

TO BOOK JASON WILSON & THE SOLDIERS OF SONG
Contact AIM Booking Agency
See also Soldier of Song

FOR PUBLICITY
Jason Schneider
jason@jasonschneidermedia.com
See also jasonschneidermedia.com